The world has been gripped by the COVID-19 pandemic for months, although it feels like much longer. At Tove Valley Cottages, we hope that we're now beginning to come out of the other side of the lockdown. Our thoughts have begun to turn to how life is going to change in the post-coronavirus world. One of the most exciting prospects coming up is being able to go on holiday in the UK.
Countryside Breaks 
For many people, the first thing on the to-do list after COVID-19 will be a countryside getaway. A short holiday break to reconnect with nature will be the perfect antidote to the virus that has taken over our lives for most of the year.
As much as we love our homes, our patience has been sorely tested in recent months. The inability to leave for many of us has meant that a getaway to the country is even more welcome. To be able to spend quality time in the fresh air, amongst nature, and to visit new areas will be exactly what we all need. No more home-schooling, no more Zoom video calls, just quality time with the family getting away from it all. While being surrounded by peaceful Northamptonshire countryside.
The UK boasts some incredible scenery, glorious countryside, and awe-inspiring historical buildings. There are plenty of places to choose from if you're looking to escape the concrete jungle. At Tove Valley Cottages, you're bound to find something to suit your budget and interests. So, if you're looking to create the perfect post-COVID countryside break, here is why we will inspire and rejuvenate you in equal measure.
Get Away Family Holidays
For those looking to stretch those walking muscles beyond the one hour a day we became used too, the surrounding Northamptonshire countryside offers some amazing hiking that suits all fitness levels. Whether you want to trek up rural hills or simply stroll along the beautiful River Tove. Make sure you take your camera to capture some of the finest views anywhere in the UK.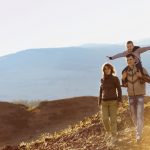 At Tove Valley Cottages, we're located on a converted Victorian farm. This is the reason for our rustic and unique cottages. We hope you'll be able to stay in our luxury cottages as soon as possible. This way you can explore the picturesque Tove Valley and incredible walks through the Northamptonshire countryside.
There's no doubt that the pandemic has been incredibly tough for many, and far too many people have lost their lives because of it. As we return to some kind of normal, learning to enjoy what we have, appreciate the country we live in and not to take for granted the people we share our lives with is perhaps the biggest positive we can take from this horrendous virus. Wherever you end up, enjoy every minute of it.
Contact Us
We hope that our blog has been helpful and given you some inspiration to what you would like to do as we the lockdown restrictions ease. If you have any questions or queries please don't hesitate to give us a call on 01327 811 714 or head over to our contact page to fill in our online enquiry form.