Towcester Holiday Cottage Rentals - FAQ
When looking to rent a self-catering holiday cottage it is natural to have many questions in the back of your mind.  We will try and answer some of them here. If you have any other queries then please call us on 01327 811 714 or email [email protected] . We are proud of our cottages and look forward to making your stay with us perfect.
Am I Able to Bring My Dog?
Yes, absolutely. Our holiday cottages are dog-friendly and so are we. There are lots of outdoor countryside spaces where excited dogs can take their owners for a walk, run and play including an exercise area on site. There is a small pet surcharge to cover the additional cleaning required.
Can I Rent A Cottage Whilst I am Working?
Yes. Whilst our cottages are popular with tourists and holidaymakers, particularly those looking for a place where large families can stay together, they are also ideal for individuals or groups of workers who might need to be in the area for a day or two, a week or even longer.
Our self-catering cottages have been popular with those working on or inspecting the new railway developments across Northamptonshire and Buckinghamshire. Sharing a cottage with other workers during the week, and returning home at the weekend, can bring many comforts and facilities that a hotel room cannot provide such as a fully functioning kitchen. The option to wash clothes and uniforms in our on-site laundry facilities is also undervalued and something missed when staying in a hotel, lodge, or inn.
Are The Cottages Child-Friendly?
We like children almost as much as we like dogs and our cottages are great for families looking for somewhere to stay. We have an on-site play area for children to burn off some energy on the swings, slides, climbing apparatus, and trampoline. Picnic tables and benches are provided, overlooking rolling farmland.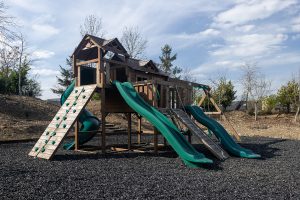 There is a public play park near the entrance to the Towcester Racecourse, only a few minutes' drive away, offering even more activities for children of all ages.
Traditional travel hotels usually have a limit on the number of four people that can stay in a single room.  For larger families, this can cause problems requiring having to pay for multiple rooms which are often not even next to each other in the hotel. We have holiday cottages that can sleep 2,4,6, or 8 guests in a safe, shared environment and you won't all be stuck in your bedroom for the duration of your stay. Having the extra space that a lounge and dining room provide can really make a stay away feel less like playing sardines and more like a real chance to relax.
Please note that there is no surcharge for having children stay with us.
Do the Self Catering Cottages Have Wi-Fi?
Each cottage on the Tove Valley Cottages complex has its own Wi-Fi access. The access details will be given to you as part of the welcome information provided to you at the start of your stay.
Are the Kitchens Fully Functional?
We think we have, ahem, catered for everything with plates, crockery, various glasses, mugs, ovenware, utensils, chopping boards, oven gloves, tea towels, a full oven with hob, microwave, toaster, fridge-freezer, an incredibly useful dishwasher, and a kettle.  There is also lots of cupboard space to put your food in, helping to keep the kitchen nice and tidy.
Are Towels and Bedding Provided?
Towels and bedding are provided in all cottages. We also provide some tea, coffee and sugar for your arrival on site.